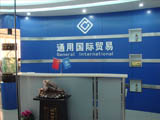 We are a highly qualified team: our employees have wide experience in this business and therefore understand our clients' real needs, being able to generate solutions to fully satisfy them.
We are proactive and we offer only products complying with top standards of quality and warranty.Our passion is Client Service: We work to exceed our clients' expectations. Thanks to AGICO, purchasing in China is not a concern any more for our clients.We are focused on Biomass Energy and pellet mill: This allows us to be specialists, to be always aware of the latest innovations and offer the best solutions. Moreover, both industries are complement each other and we are able to supply combined solutions, providing an integral service for our clients.
We achieve economies of scale: Our wide client portfolio allows us to minimize production costs. This and our experience in the market allows us to offer the best commercial conditions for our clients.We have very attractive prices. Contact us for further information and you will be surprised of the significant savings that your company can achieve by working with us.